Smart Technology — More connected for more confidence and control
Spektrum™ Smart Technology is about offering a higher connection to your hobby. It's an RC ecosystem that puts you in complete control while making vital components of your model easier to use than ever before. Smart technology ensures that all of your model's electronics work together seamlessly for the greatest efficiency and performance. It keeps you aware of every component's status, boosts your confidence in its capabilities, and makes your entire system more responsive and simple to use.
Spektrum radios with Smart features can download firmware updates instantly using Wi-Fi and can swap setups with compatible radios via Bluetooth. Spektrum Smart LiPo batteries have a built-in microchip that records and communicates your charging preferences automatically to Smart chargers — just connect your pack and press "Start." Smart IC™ series connectors include an innovative data wire that transfers information easily between Smart components with a single connection. Finally, Smart ESCs not only deliver power but also eliminate the hassles from running telemetry. The days of installing and connecting multiple wires, sensors, modules and links are over.
Features
Smart charging features include protection against a short circuit, over current and more
Simple, one-touch command dial interface makes operation easy
Four independent ports for the ultimate in charge precision
Individual LED displays show battery current, capacity and voltage
Versatile design includes four connector types built into each charge port
Independent charging circuits for improved speed and efficiency
Charge flexibility with adjustable charge currents from 0.05 to 1.2A
Integrated cooling system promotes unit reliability
Visual and audio charge status indicator system
Convenient AC and DC input (11 – 15v DC)
Overview
The Spektrum™ Micro 4 Smart charger is a 4-port tool for the RC pilot who wants the ultimate in 1S LiPo battery charging. Featuring Spektrum Smart Charging technology, its digital LED status screen delivers vital battery information in a clear manner the instant you connect. Its compact all-in-one design incredibly offers four independent charging channels, each with enough built-in connectors so that charging multiple 1S batteries with the highest level of precision is easy.
Each of the four charging channels is built-in with independent circuitry to enhance charge precision and efficiency. Vivid LED status lighting includes individual 4-digit displays and multi-color LEDs so you can instantly see the charge phase and battery condition. The simple press-dial interface allows you to finely tune the charge rates from 0.05 to 1.2A making it possible to fast-charge most high rated batteries. Exclusive software detects LiPo and LiHV 1S batteries automatically and combines with Spektrum Smart Charging technology so your batteries get maximum protection against short circuit, over current, reverse polarity and input voltage errors.
The Micro 4 AC/DC system works when connected to a standard wall outlet or you can even take the Micro 4 charger on the go. Unlike charging multiple 1S batteries in parallel, each battery is individually recognized. As a result, you can charge individual 1S batteries with the precision of much more expensive charge units and possibly extend the life of all of your 1S batteries
Four Precision Charge Ports
Four individual charge circuits and four separate charge ports make it possible to charge multiple 1S packs with precision. Choose the exact charge rate you need from 0.05 to 1.2 amps using the individual dials that combine with a 4-digit display and a multi-color status LED system so you can keep a fleet of batteries working hard for you.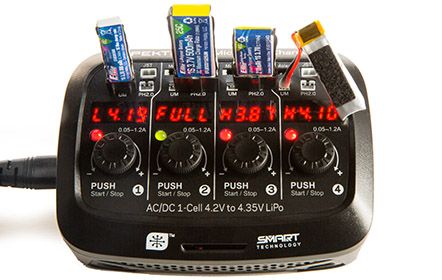 Easy to Use
Simply connect your 1S battery into one of the charge ports and the Micro 4 instantly displays battery voltage. The Micro 4 conveniently powers from a standard 120V wall outlet or remote power source. Its pushbutton dial keeps programming all four charge ports simple while the LED displays clearly show charge status, rate, voltage and more.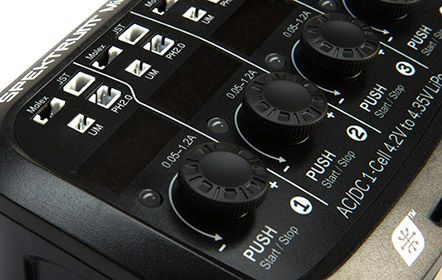 Compact Design
Each of the four ports features four connector types to select from so there are no cumbersome adapters to untangle. Lightweight and small in size makes it even easier to stash into a backpack and take anywhere.
| | |
| --- | --- |
| Ampere Meter: | Yes - on main LCD display |
| Battery Type: | 1S LiPo |
| Display: | 4-digit LED |
| Height: | 2.0 in (51 mm) |
| Input Voltage: | 100-240 Volts AC; 11-15 Volts DC |
| Length: | 5.2 in (132 mm) |
| Maximum Charge Rate: | 1.0 A |
| Output Connector: | Molex / JST / UM / PH |
| Programmable: | No |
| Selectable Charge Rate: | Yes - Incremental (0.1A Increments) |
| Voltage Meter: | Yes - on main LCD display |
| Weight: | 10 oz (283 g) |
| Width: | 3.9 in (99 mm) |
Manuals