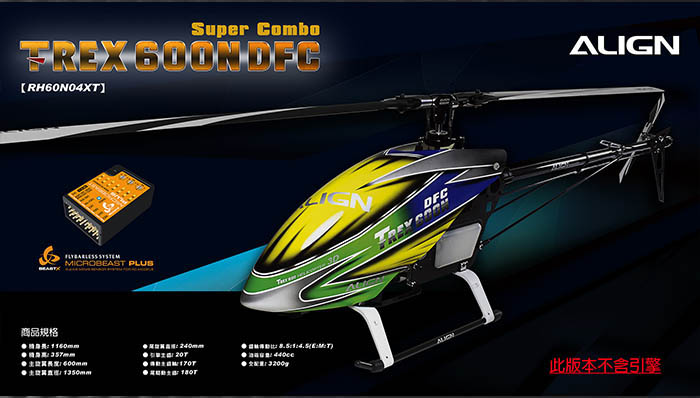 T-Rex 600N DFC has been representing the pinnacle of Align's classic designs, and reclassified the 50 size helicopter class with innovations and ultimate power, making new waves never seen before the T-Rex 450.

T-REX 600N DFC is equipped with the low CG DFC rotor head, effectively reduce wind resistance during flight, providing the most direct and precise control feel back to the pilot, and exhibits exhilarating 3D performance and unimaginable flight speed; 3K carbon fiber plates are utilized throughout frame design for highest rigidity, as well as ease of maintenance; Light weight high efficiency engine cooling fan to effectively reduce engine load and improve cooling efficiency; Large capacity 440cc fuel tank enables up to 10 minutes of extreme 3D flight; Numerous newly designed upgrades are included, such as new style tail drive transmission box, carbon fiber tail pushrod, new tail pitch assembly and etc.
Focus Shots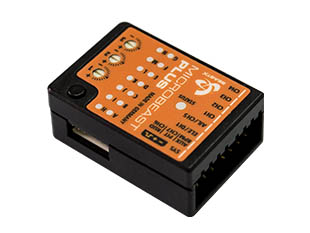 The high-end Microbeast PLUS 6-axis gyro with 32-bit high-speed processor is much precise and superior in programming and computing allow for significant handling performance and delicate response. In addition, the Microbeast PLUS gyro is vibration-reducing improvement and strongly reduce the effects of the vibration to flying performance.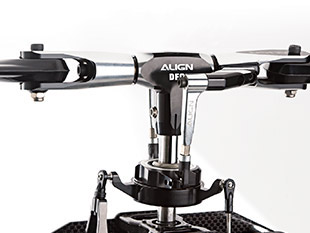 Equipped with the low CG DFC rotor head, exhibits exhilarating 3D performance and unimaginable flight speed.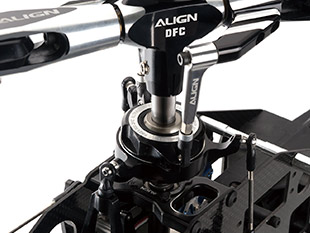 600DFC CCPM Metal Swashplatek.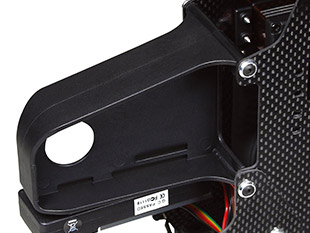 New lightweight H-cross section for electronic equipments.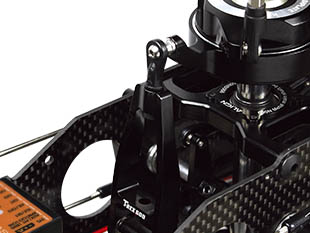 New elevator arm set, high rigidity metal main shaft bearing block.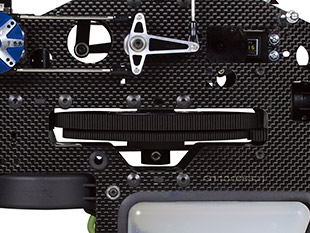 Equipped with new high strength CNC M0.7/170T helical main gear and tail drive bevel gear assembly, featuring reinforced overall gear structure and increased gear thickness, effectively improves gear's anti torsion ability to prevent gear from deforming under extreme power, reducing gear wear and power loss.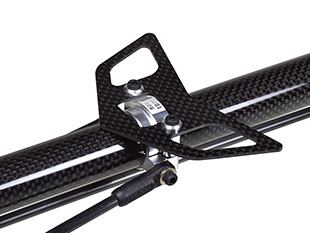 Metal stabilizer set.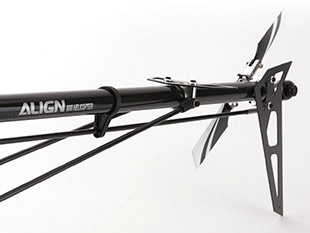 Brand new carbon tail control pushrod assembly.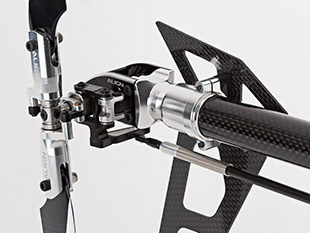 High efficiency shaft tail drive system.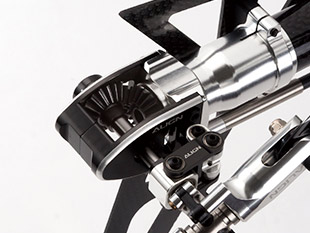 New tail control assembly with dual mounting points, effectively eliminate slop and improve control precision and feel.
Standard equipment
●Governor Sensor x 1
●DS615 Digital Servo x 3
●DS655 Digital Servo x 1
●B6T 2 In 1 Voltage Regulator x 1
●Microbeast PLUS Flybarless System x 1 set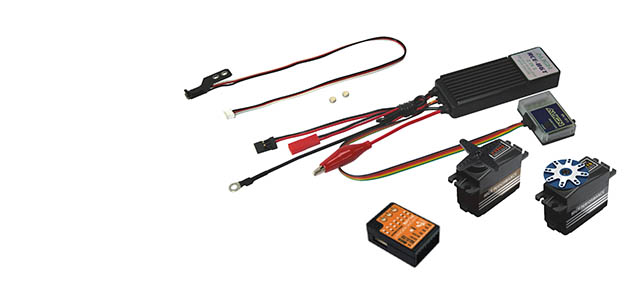 Specification
● Length: 1160mm
● Height: 357mm
● Main Blade Length: 600mm
● Main Rotor Diameter: 1350mm
● Tail Rotor Diameter: 240mm
● Engine Pinion Gear: 20T
● Main Drive Gear:170T
● Autorotation Tail Drive Gear: 180T
● Drive Gear Ratio: 8.5:1:4.5(E:M:T)
● Fuel Tank Capacity:440cc
● Flying Weight Approx: 3200g
Accessories
●T-REX 600N DFC Kits Set x 1
●600 Carbon Fiber Blades x 1set
●Microbeast PLUS Flybarless system x 1
●Ds615 Standard servo x 3
●Ds655 Specialized servo x 1
●Govemor Sensor x 1
●B6T 2 In 1 Voltage Regulator x 1
Radio transmitter and electronic equipment required for assembly:
●Transmitter(7-channel or more, helicopter system)
●Receiver(7-channel or more)
●Standard servo x 1 ( for throttle)
●Engine starter x 1
●Digital pitch gauge x 1
●Fuel pump x 1
●Engine fuel x 1
●50Muffler x 1
●Align 50H Engine or 55HP Engine x 1