CAPTURE IT ALL
Featuring a 1-inch CMOS sensor, powerful autonomous functions, and a compact body weighing less than 600 g, DJI Air 2S is the ultimate drone for creators on the move. Take this all-in-one aerial powerhouse along anywhere to experience and record your world in stunning detail.
Shoot RAW format photos with a dynamic range of up to 12.6 stops to capture more visual information in every scene, even when lighting conditions are bad or complex. This provides more flexibility in post-processing, giving creators more possibilities to get the look they want.
WORRY LESS, DISCOVER MORE
The combination of APAS 4.0, four-directional obstacle sensing, and 12km 1080p O3 image transmission system offers you a safer, smarter, and smoother flying experience.
BIG WORLD, BIG SENSOR
Equipped with a 1-inch image sensor and large 2.4μm pixels, DJI Air 2S is capable of capturing every stunning detail.
AUTHENTIC COLOR TONES
With 5.4K video, DJI Air 2S delivers rich clarity and authentic color tones in every frame for footage that wows.
INTRODUCING MASTERSHOTS
The next evolution of QuickShots, MasterShots is an advanced intelligent feature that gives users the best shots in any location with just a tap. Simply select your subject, and the drone will film while executing ten different maneuvers in sequence, keeping your subject center-frame and generating a short cinematic video afterward.
Create stunning short videos that speed up movement of elements on the screen to create striking visuals with the touch of a few buttons. With in-built presets like circle mode, lock mode or waypoint mode, shooting hyperlapse shots has never been easier. Free mode lets the pilot change aircraft attitude, gimbal angle, while shooting hyperlapse to create unique shots.
No longer does the pilot have to worry about the field of view of the camera. With three different modes for Panorama namely Wide-Angle,180° and Sphere, the user can capture wide, large and more detailed images of the scene above and beyond the FoV of the camera lens. These panorama images are automatically stitched together by the Air 2S and the final panoramic image is ready for the pilot in the DJI Fly App.
Mastershots and quickshots
With MasterShots, the pilot can capture the best cinematic shots with incredible ease. The DJI Air 2S will execute 10 different cinematic aerial maneuvers in just one tap. All the pilot has to do is to mark the subject on the screen and the drone will keep the subject in the center of the frame throughout the shot. The system automatically generates a short cinematic video after the shot is done. MasterShots have three different types namely Portrait, Proximity and Landscape.
---
Follow or orbit your subject with FocusTrack with great ease. Spotlight 2.0 Active Track 4.0 and Point of Interest 3.0 are the three different modes under FocusTrack that help pilots automate shots to produce consistent, smooth and stable footage comparable to something that would otherwise require a crew of professionals.
Spotlight 2.0: The drone keeps the subject centered in the frame as the pilot flies around or takes close-up shots. Digital zoom is available to shoot from a distance for safety.
ActiveTrack 4.0: Avoid obstacles while following the subject smoothly keeping the subject in the frame at all times. Even when the subject is lost due to an obstacle, the pilot can easily resume tracking during flight.
Point of Interest 3.0: The drone will track a perfect circle at a radius and altitude set by the pilot. The pilot can easily change the direction of rotation through the app while in flight. The subject is centered in the frame through the entire flight.
---
OBSTACLE PERCEPTION AND AVOIDANCE
---
Powered by Advanced Pilot Assistance Systems (APAS 4.0), the DJI Air 2S is able to sense and avoid obstacles in four directions, above and below the drone as well as forward and backward directions. With APAS 4.0 algorithms, the Air 2S is able to detect and avoid obstacles in very complex situations at high speeds.
---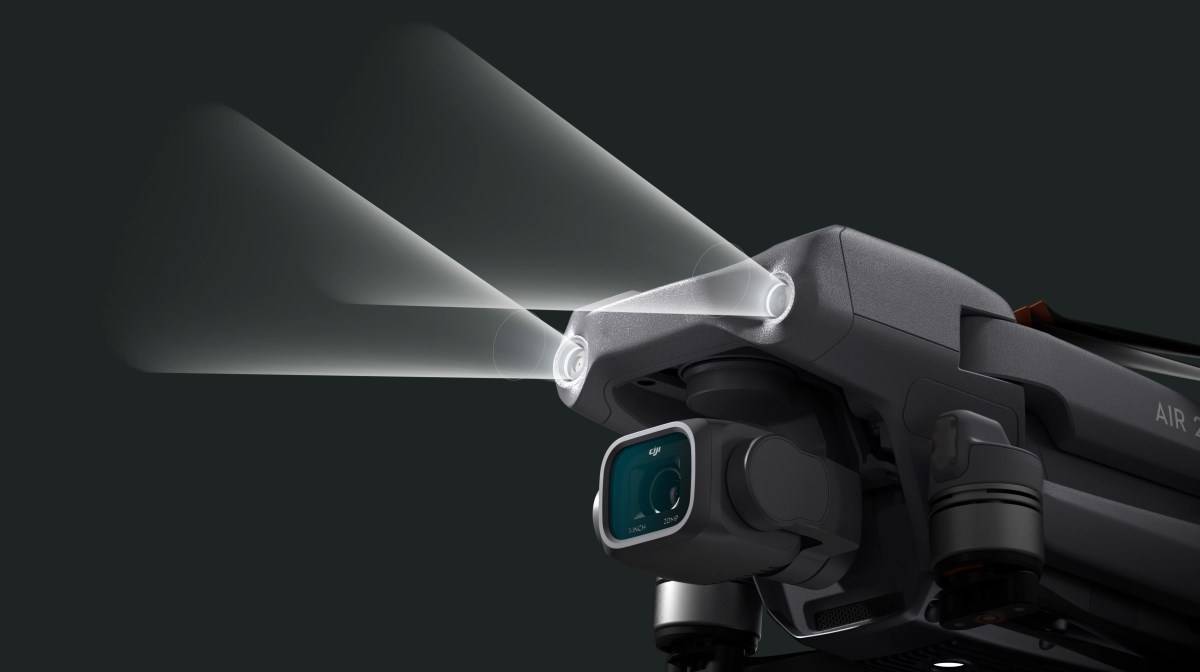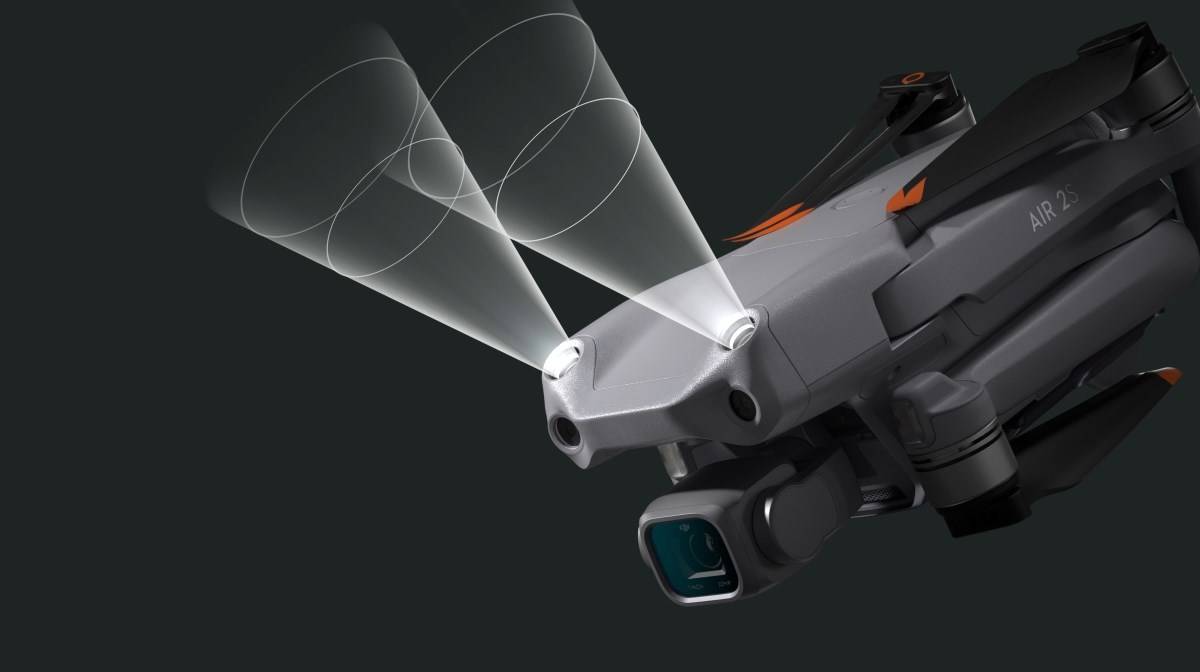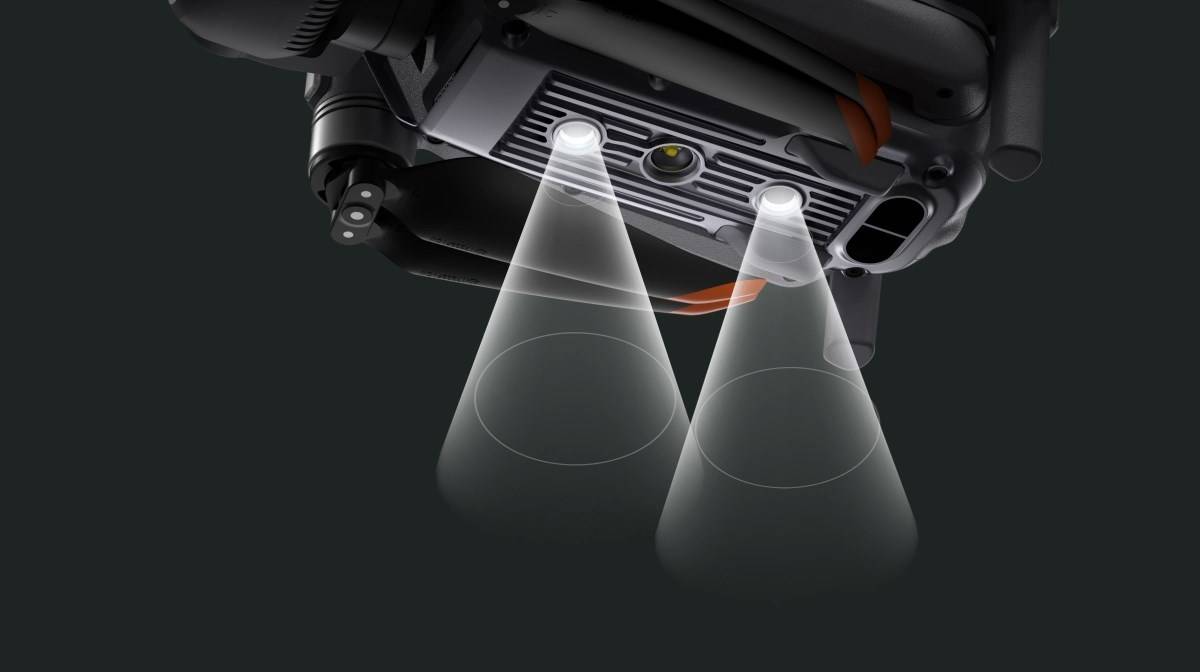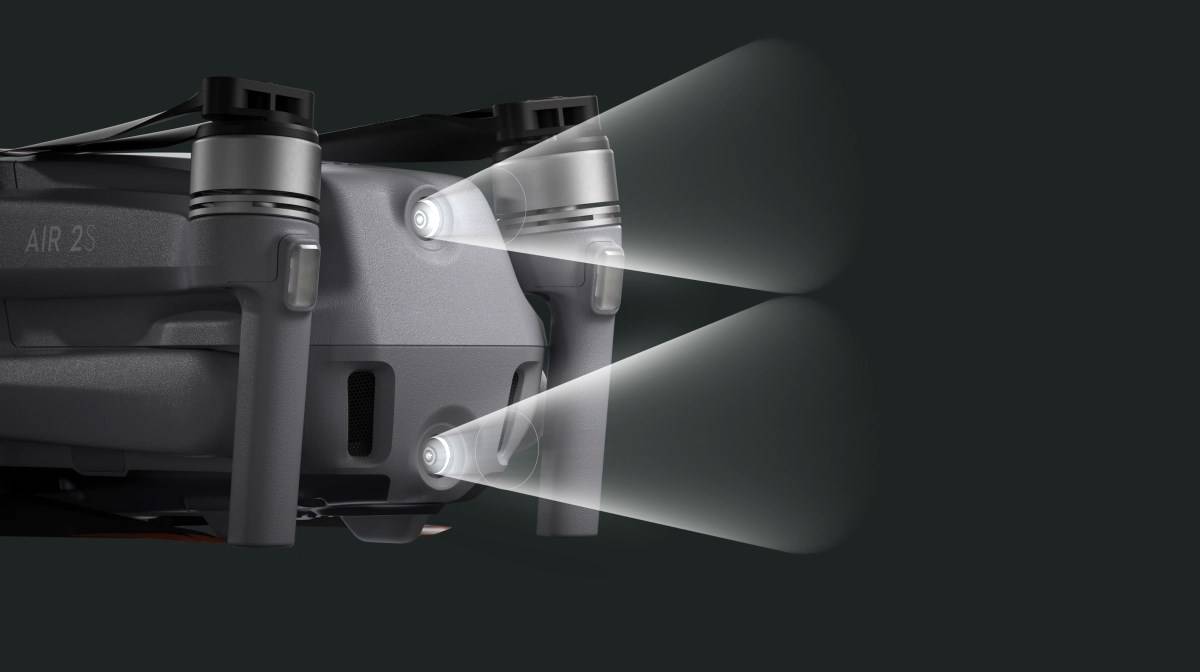 ---
TRANSMISSION SYSTEM - OCUSYNC 3.0
---
Just like the DJI FPV drone, the DJI Air 2S comes equipped with the upgraded DJI OcuSync 3.0 transmission system. The O3 Transmission System is capable of up to 12km of video transmission range at 1080p with minimal latency. Featuring a Dual Frequency 2.4/5.8GHz system with 4 antennae, the O3 system provides a reliable, smooth and crisp video feed even in the most challenging conditions. The Air 2S Remote controller features a compact, ergonomic design that puts the display device at the top of the remote similar to the Mavic Air 2 remote controller.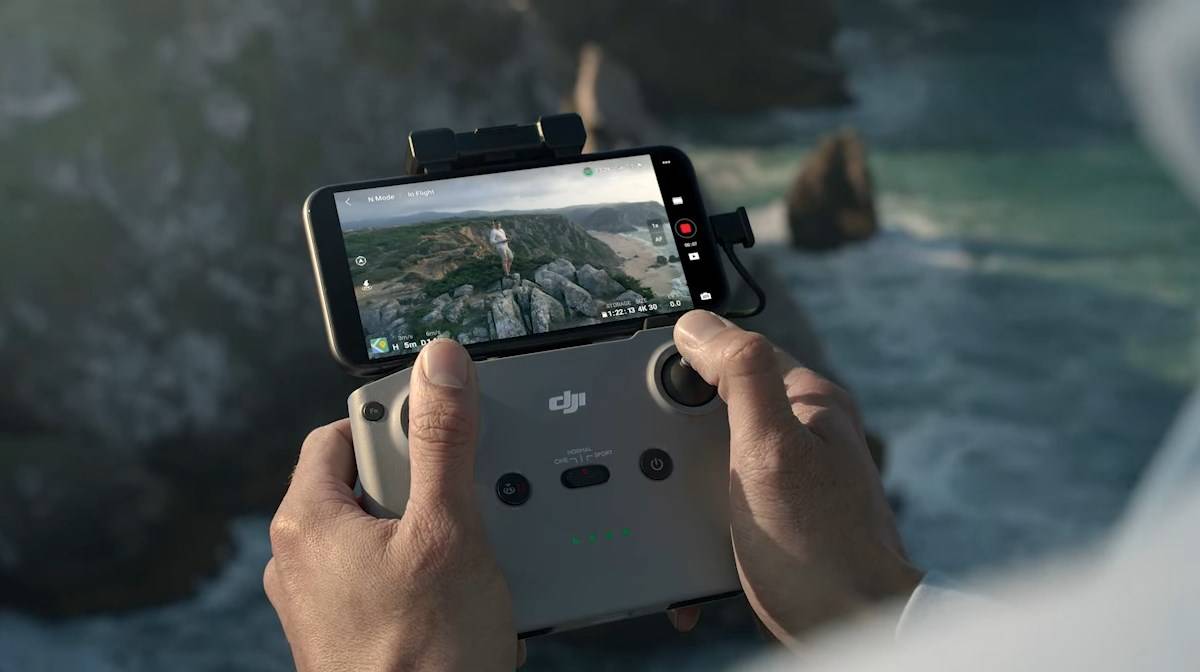 Aircraft
Takeoff Weight
595 g
Dimensions
Folded:
180×97×77 mm (length×width×height)
Unfolded:
183×253×77 mm (length×width×height)
Diagonal
Length
302 mm
Max Ascent Speed
6 m/s (S Mode)
6 m/s (N Mode)
Max Descent Speed
6 m/s (S Mode)
6 m/s (N Mode)
Max Service Ceiling Above Sea Level
5000 m
Max Flight Time (no wind)
31 minutes
Max Hovering Time (no wind)
30 minutes
Max Flight Distance (no wind)
18.5 km
Max Flight Speed (near sea level, no wind)
19 m/s (S Mode)
15 m/s (N Mode)
5 m/s (C Mode)
Max Wind Speed Resistance
8.5-10.5 m/s
Max Tilt Angle
35° (S Mode)
25° (N Mode; 35° under heavy winds)
Max Angular Velocity
250°/s (S Mode)
90°/s (N Mode)
Operating Temperature Range
0° to 40°C (32° to 104°F)
(upward sensors and camera AF will be disabled at -10°C or lower)
Operating Frequency
2.4 GHz
5.8 GHz
Transmission Power (EIRP)
2.4 GHz:
FCC: ≤30 dBm
CE: ≤20 dBm
SRRC: ≤20 dBm
MIC: ≤20 dBm
5.8 GHz:
FCC: ≤30 dBm
CE: ≤14 dBm
SRRC: ≤29 dBm
Hovering Accuracy Range
Vertical:
± 0.1 m (with vision positioning)
± 0.5 m (with GPS positioning)
Horizontal:
± 0.1 m (with vision positioning)
± 1.5 m (with GPS positioning)
Propellers
Quick release, low noise, folding
Aircraft Arms
Foldable
GNSS
GPS+GLONASS
Compass
Single Compass
IMU
Single IMU
Internal Storage
8 GB
Intelligent Flight Battery
Capacity
3500 mAh
Voltage
11.55 V
Max Charging Voltage
13.2 V
Battery Type
LiPo 3S
Energy
40.42 Wh
Weight
198 g
Charging Temperature Range
5° to 40°C (41° to 104°F)
Max Charging Power
38 W
Built-in Battery
N/A
Camera
Sensor
1" CMOS
Effective Pixels: 20 MP; 2.4μm Pixel Size
Lens
FOV: 88°
AF, 35 mm Format Equivalent: 22 mm
Aperture: f/2.8
Shooting Range: 0.6 m to ∞
ISO Range
Video:
100-6400 (Auto)
100-12800 (Manual)
10-Bit Dlog-M Video:
100-1600 (Auto)
100-3200 (Manual)
Photo:
100-6400 (Auto)
100-12800 (Manual)
Still Image Size
20 MP
5472×3648 (3:2)
5472×3078 (16:9)
Still Photography Modes
Single shot: 20 MP
Burst shooting: 20 MP (continuous burst)
Auto Exposure Bracketing (AEB): 20 MP, 3/5 bracketed frames at 0.7 EV bias
Timed: 20 MP, 2/3/5/7/10/15/20/30/60s
SmartPhoto (including HDR and HyperLight): 20 MP
HDR Panorama:
Vertical (3×1): 3328×8000 (width×height)
Wide-angle (3×3): 8000×6144 (width×height)
180° (3×7): 8192×3500 (width×height)
Sphere (3×8+1): 8192×4096 (width×height)
JPEG/DNG (RAW)
Video Resolution
5.4K: 5472×3078 @ 24/25/30 fps
4K Ultra HD: 3840×2160 @ 24/25/30/48/50/60 fps
2.7K: 2688x1512 @ 24/25/30/48/50/60 fps
FHD: 1920×1080 @ 24/25/30/48/50/60/120 fps
MP4/MOV (H.264/MPEG-4 AVC, H.265/HEVC)
Max Video Bitrate
150 Mbps
Supported File System
FAT32/exFAT
Supports a microSD card with a capacity of up to 256 GB.
Digital Zoom
Zoom recording is not available while recording 10-bit videos and 120fps videos.
4K/30fps:
4x;
2.7K/60fps:
4x;
2.7K/30fps:
6x;
1080p/60fps:
6x;
1080p/30fps:
8x
Gimbal
Stabilization
3-axis (tilt, roll, pan)
Mechanical Range
Tilt: -135° to 45°
Roll: -45° to 45°
Pan: -100° to 100°
Pan Axis
Controllable
Controllable Range
Tilt: -90° to 0°(default); -90° to 24° (extended)
Pan: -80° to 80°
Max Controllable Speed (tilt)
100°/s
Angular Vibration Range
±0.01°
Sensing System
Forward
Precision Measurement Range: 0.35-22.0 m
Detection Range: 0.35-44 m
Effective Sensing Speed: ≤15 m/s
Field of View (FOV): 71° (horizontal), 56° (vertical)
Backward
Precision Measurement Range: 0.37-23.6 m
Detection Range: 0.37-47.2 m
Effective Sensing Speed: 12 m/s
Field of View (FOV): 57° (horizontal), 44° (vertical)
Downward
Available Downward Sensors: Dual Vision Sensors + Time of Flight Sensors (ToF)
ToF Measurement Range: 0.1-8 m
Hovering Range: 0.5-30 m
Left/Right
N/A
Upward
Precision Measurement Range: 0.35-22.0 m
Field of View (FOV): 78° (horizontal), 63° (vertical)
Downward Auxiliary Light
Single LED
Video Transmission
Transmission System
O3
2.4 GHz/5.8 GHz Auto-Switching (compatible with OcuSync 2.0)
4-antenna 2T4R
Max Transmission Distance
12 km (FCC), 8 km (CE)
8 km (SRRC), 8 km (MIC)
Live View Quality/Latency
Drone + Remote Controller: 1080p/30fps 12 Mbps <120 ms
Drone + DJI Smart Controller: 1080p/30fps 12Mbps <130 ms
Max Transmission Bitrate
44 Mbps
Operating Frequency
2.4 GHz
5.8 GHz
Remote Controller
Multiple Controllers
N/A
DJI Smart Controller
Supported
Remote Controller Transmission System
OcuSync 2.0
Battery Life
9.36 Wh ×2
Supported Mobile Device Connectors
Lightning, Micro USB, USB-C
Max Supported Mobile Device Size
180×86×10 mm (length×width×height)
Operating Temperature
-10° to 40°C (14° to 104°F)
Transmitter Power (EIRP)
2.4 GHz:
FCC: ≤26 dBm
CE: ≤20 dBm
SRRC: ≤20 dBm
MIC: ≤20 dBm
5.8 GHz:
FCC: ≤26 dBm
CE: ≤14 dBm
SRRC: ≤26 dBm
Charger
Charging Input
100-240V, 50/60 Hz, 1.3 A
Charging Output
Charging Port: 13.2 V⎓2.82 A
USB Port: 5 V⎓2 A
Voltage
13.2 V
Rated Power
38 W