The E-flite V-22 Osprey is an officially-licensed replica of the amazing VTOL (Vertical Take Off and Landing) capable tiltrotor aircraft, featuring an exclusive flight control system that makes both helicopter/multirotor and airplane flight possible.
Exclusive Flight Control Software Makes it Possible
At the heart of it all is exclusive flight control software that has been expertly tuned by our engineers. The end result makes it possible for many RC pilots with both airplane and helicopter/multirotor flight experience to successfully enjoy scale VTOL flight.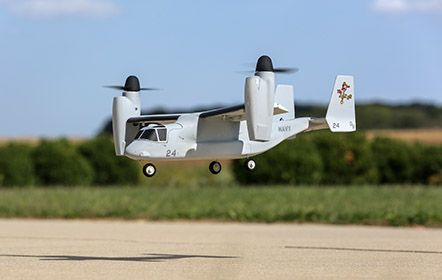 Automated Transition
Making the transition between helicopter/multirotor and airplane flight is as simple as flipping a single switch. The flight controller will automatically rotate the tiltrotors and activate the control surfaces as needed.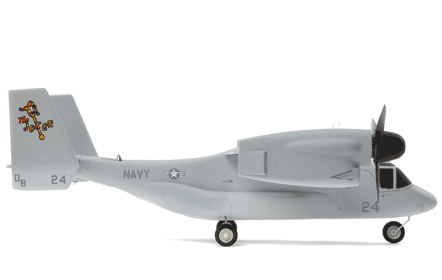 Three Flight Modes
Easy-to-use Stability and Acro flight modes deliver a wide range of performance:
Multirotor Stability Mode
Multirotor Stability Mode limits pitch and bank angles and automatically self-levels the aircraft when you release the sticks. This helps to prevent crashes and makes it possible to take off and land vertically like a pro, even if you've never flown a VTOL aircraft before.
Airplane Stability Mode
Airplane Stability Mode automatically rotates the tiltrotors and activates the control surfaces for airplane flight. Pitch and bank angle limits, plus automatic self-leveling when you release the sticks, work to help prevent crashes.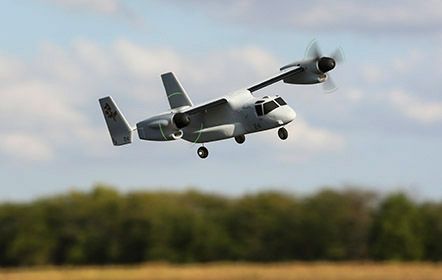 Airplane Acro Mode
There are no angle limits and self-leveling is no longer active in the Airplane Acro Mode. This allows for tighter maneuvering and even provides the capability to perform some aerobatic maneuvers including loops and rolls.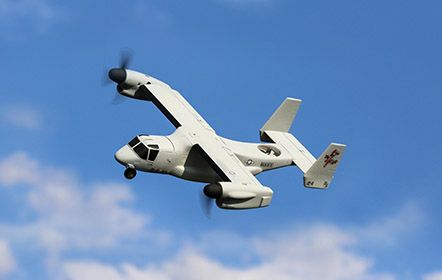 Super-Simple Setup
This Bind-N-Fly® Basic version can be flown with any full-range 6+ channel Spektrum™ DSMX® or DSM2® compatible aircraft transmitter and comes equipped with a Spektrum serial receiver that is factory-installed and connected to the flight controller. No complex transmitter setup or programming is required. A single 3-position switch is used for selecting between the three flight modes.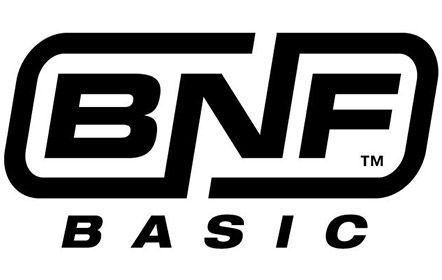 Landing Gear Options
No tools are required to install (or remove) the included landing gear that features a castering nose wheel so you can taxi and perform 'rolling' take offs and landings. Or you can leave it off to simulate a 'retracted' gear look and for added performance.
Customizable Trim Scheme
The included decal sheet allows you to customize the factory-painted finish with multiple military branch trim scheme options.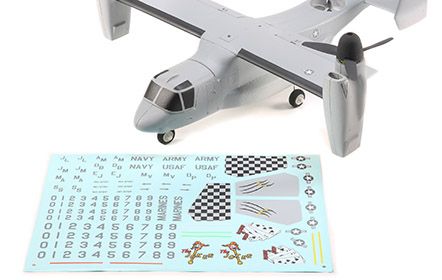 FPV (First-Person View) Ready
For an FPV flying experience like no other, the V-22 Osprey is set up to accommodate and power the recommended FPV camera and video transmitter (both sold separately)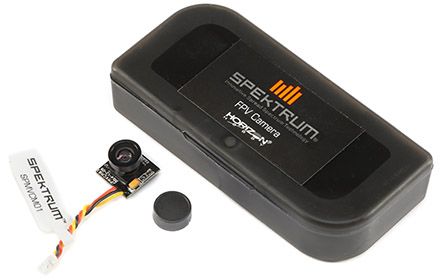 You will need...
• Full-range 6+ channel DSMX®/DSM2® transmitter 
• 3S 11.1V 800mAh 30C LiPo with JST Connector 
• Compatible LiPo charger
Wingspan

19.2" (487mm)

Overall Length

19.2" (487mm)

Wing Area

62 sq in (4 sq dm)

Motor Size

Two 2250Kv, one 4000Kv

Radio

Full range 2.4GHz 6-channel with Spektrum DSMX technology (sold separately)

Servos

Two 5g sub micro analog air servos, three 3.7g sub micro analog air servos

Prop Size

Two 5x3 three blade for main motors, one 2x1.8 four blade for rear motor

Speed Control

 

Two 12A main, one 6A tail

Recommended Battery

3S 800mAh with JST connector required

Aileron

Dual servo control

Approx. Flying Duration

4 minutes

Assembly Time

Less than 1 Hour